Gameplay and mechanics of RAID
Upon entering the game you start with a tutorial mode to learn the basics of Raid. After you finish the small tutorial, you have to choose your first starting champion out of 4: Elhain, Kael, Galek and Athel. Each champion has different skills and attributes.
You'll find yourself in a zone called Bastion, where you can do pretty much everything – train your champion, summon more champions in the Summoning portal, buy stuff from the Market, mine gems, and more. You'll unlock these options by leveling up your account, which you can start immediately by completing Campaign missions.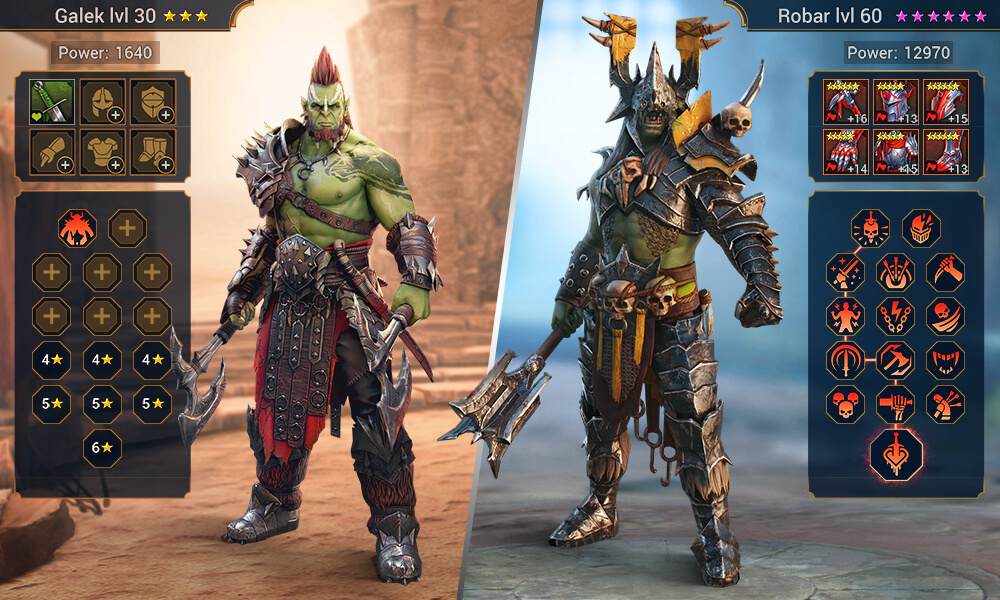 Each Battle costs you energy, which will refill automatically over time, or you can buy energy from the shop. You can check what enemies you'll face in that particular battle, and you can also choose which Champions (up to 4) you want to take against them – each Champion has unique skills and an Affinity that makes them weak or strong against another Affinity. Important to note, that Magic Affinity beats Spirit, Spirit beats Force, Force beats Magic, and Void is a special one – Void champions have no direct weaknesses against other Affinities.
RAID is a turn-based game, so you have some time to think about your next move, but you can also choose AUTO mode. It is recommended not to use auto mode when you are testing a brand new champion. You would think that if this game has an auto mode, it's easy, but trust me, it is not! If you don't choose the right Champions with the right Artifacts and Masteries, you'll easily get defeated, with our without automatic gameplay mode.
If you successfully clear a stage, you'll get valuable loot, such as artifacts and silver, and some XP points of course, and you can go straight to the next stage, or quit by going back to Stage Selection. You can go to the next region, once you've finished all the stages in the campaign. You can also go to Dungeons, Faction Wars, Arenas, or defeat Clan Bosses, which can be tackled with clan members only. There are plenty of activities to do and plenty of champions to try in RAID – even if the combat itself is not too exciting (but it can be difficult), you won't get bored easily while playing this game.
Summary
RAID's graphics and voice acting are surprisingly good, the interface is rich in content, but it's not hard to navigate. There are a huge variety of available champions (over 400), and you'll find real challenging content as well such as Dungeons and PVP, so if you are a fan of turn-based games, or even if you are new to the genre, you should definitely give RAID a try. It has lots of active players and streamers, and it's free-to-play. download it by clicking here!