Now is the time to turn up your speakers and party hard in Paladins! Just by playing, the Monstercat Crossover Pass unlocks skins depicting the artists and their musical universe. The GG Magree skin for Skye, the Bossfight musical menu theme and more rewards are free for everyone. Players can purchase the Monstercat Crossover Pass for 500 Crystals to gain access to all its content, including Justin OH Khan and three music themes.
For the next two months, the Monstercat beats won't stop as WHIPPED CREAM Cassie and Bossfight Koga are coming to take this music-powered experience to the next level.
Both artist skins will be available entirely for FREE to all Twitch Prime Gaming subscribers on this dedicated page. WHIPPED CREAM Cassie will become available on April 5 and Bossfight Koga on May 5.
New Champion: Betty la Bomba
Today, make way for Betty la Bomba, latest Damage Champion, Bomb Queen, and Queen of the Realm of Paladins! Betty la Bomba had it all. The brains, the looks, the power. Yet she didn't expect her newly-created bomb to develop a mind of its own – and become Bomb King. Today Betty reestablishes herself as the Bomb Queen, the rightful ruler of the realm. Nothing will stand in the way of her gadgets and explosives.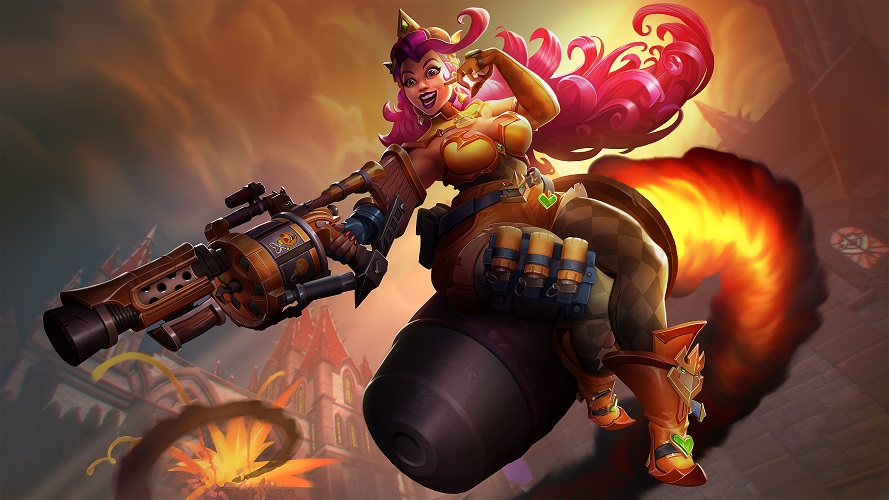 Betty la Bomba Ability Breakdown
When she's not firing her dual-mode grenade launcher or deploying entire bags of bombs, you can see Betty la Bomba riding a giant rocket with her ultimate ability.
Players who like high-risk high-reward Damage Champions are going to love Betty. Rather than just constantly spraying bullets, she sees bigger and aims for devastating explosions that can damage several Champions at once. With good timing and execution, Betty la Bomba is expert at securing the objective in Siege, Paladins' most competitive mode.
Press release, Hi-Rez Studios